Intro

July 2014: will be in Vegas + Nevada+Arizona again! Lucky me!

Let's start with a few useful links for everybody:
A-GPS-Dateien für Nikon Kameras mit GPS - ich hab eine P330 und eine AW100
Visualisierung von Tracks auf allen möglichen Karten - versteht u.a. die .log-Files aus Sony GPS-CS1 (GPS-CS1 Anleitung Deutsch).
Online Converter zw. KML und GPX für Google-Garmin ...
Online Converter für alle möglichen Formate
Online Generator für kostenlose Openstreetmap-Karten für Garmin GPS
Hotelcoupons zum Walk-in-Sparen
die erneuerte Packliste


Unsere diesjährige Tour (Map folgt) wird etwa so aussehen:
Las Vegas, Fashion Outlets of Las Vegas, Las Vegas Premium Outlets - North, (Pioneertown Filmset), Zzyzx, Calico Ghost Town, Historic Route 66 Motel Barstow, Mojave Air & Space Port, LA The Getty Center, LA Ennis House Foundation, LA Eames House, LA Walk of Fame, LA Universal Studios Blvd, LA Universal Studios, LA Museum of TV & Radio, LA Walt Disney Concert Hall, LA The Queen Mary, Santa Barbara, Avila Beach, Pismo Beach, Grover Beach, Pismo Dunes Natural Preserve, Moonstone Beach Dr, Apple Infinite Loop, Hewlett-Packard, Intel Museum, Computer History Museum, Stanford Graduate School of Business, Googleplex, Carmel-by-the-Sea, Solvang, Margo Dodd Park, Monterey Bay Aquarium, Santa Cruz Wharf, Henry Cowell Redwoods State Park, Dennis the Menace Park, Monterey Peninsula Recreational Trail, Point Lobos, Lands End, SF Twin Peak, SF Lombard Street, Americas Best Value Inn - Oakland - Lake Merritt, Alcatraz Island, Fisherman's Wharf, Golden Gate Bridge, Yosemite-Nationalpark, Mono Lake, Mono Lake Foto Punkt, Bodie Ghosttown, Rhyolite DV Ghost town, Scotty's Castle, Death Valley Junction amargosa, Las Vegas, Henderson REI Shopping, Nevada State Railroad Museum, Boulder Beach, Kingman Route 66, Hoover Dam, Nelson Ghost Town "3000miles", Valley of Fire (oder hier), Grosvenor Arch, Fire Wave, Firecave Windstone arch, Pagoda Arch (destroyed), Double Arch, Fire Canyon / Silica Dome, Elephant Rock, Zion National Park, White House Trailhead Rd - The Nautilus (Bobbahn Schnecke im weißen Stein), Antelope Canyon, Kodachrome Basin State Park, Coyote Buttes, The Wave, Devils Garden Campground, Luna Mesa Oasis, Hanksville, Goblin Valley State Park, Fisher Towers Picnic Area, Glendale Bills Cars, Bryce Canyon, little white horse canyon hanksville, Peek-a-boo Canyon, Arches National Park, Corona Arch, Mill creek waterfall, Dead Horse Point State Park, Canyonlands National Park, Corona Arch, Potash Mine, Natural Bridges National Monument, (Mesa Verde National Park, Four Corners Monument,) Dry Fork Canyon, Hickman Bridge Trail, Valley of the Gods, Monument Valley, Planes of Fame Air Museum, Tuba City Coal Mine Canyon, Moenkopi Legacy Inn & Suites, Grand Canyon, Sedona, Slide Rock State Park, Devils Kitchen Sedona, Seven Sacred Pools, Flagstaff, Meteor Crater, (Canyon de Chelly National Monument), Watson Lake bei Prescott bei Sedona, , Sunset Crater Volcano National Monument, Jerome (Ghosttown), Oatman Eseldorf, Chloride Ghost town, Fiesta Henderson, Harrah's Las Vegas, LV The Arts Factory, LV Fremont Street Experience plus Neonopolis, LV Siegfried & Roy's Secret Garden & Dolphin Habitat, LV The Venetian, Town Square Las Vegas, Little Hollywood Land, Movie Set (Gunsmoke, Johnson Canyon), Las Vegas Motor Speedway, Cathedral Rock Trail, Broken Arrow Way, Chuck Wagon General Store, Old Paria Film Set, The Rimrocks = Toadstool Hoodoos (noch ein Link und ggf. Nautilus, Buckskin Gulch, Indian Cove Group Campground, Mirage Volcano, Hobby Lobby Henderson ... ...
needs some sorting of course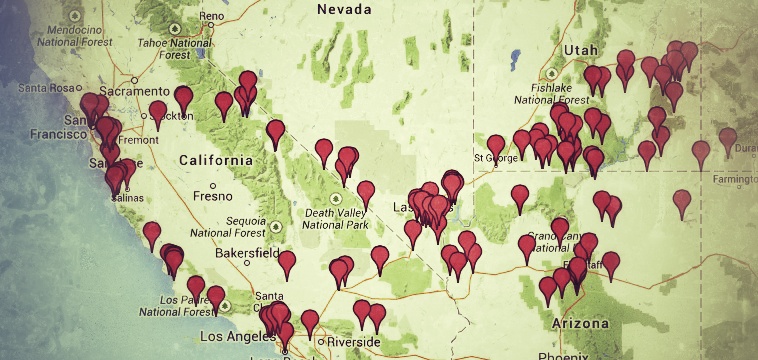 Sollten wir dort ganz viel Zeit haben, dann wäre das noch eine Option: White Pocket - dort ist auch: Brown Pocket

Sorry! There is certainly something you should do
enjoy life
engange for environmental health, freedom of information and for peace
eat more vegetables and fruits
do more sports
and something you shouldn't do
drink and drive
use drugs
speeding
. We're still working on this chapter (not really!)


---
Our trips:

2002: Denver-Rocky Mountains-Moab-Arches-Canyonlands-Torrey-Bryce-Lake Powell-Cedar Breaks-St. George-Zion-Kayenta-Page-Cortez--Natural Bridges-Mesa Verde-Pink Coral Sand Dune-Colorado Springs-Boulder-Denver in November 2002
2003: Vegas-Red Rock Canyon-Death Valley-Kingman-Route66-Flagstaff/Sedona-Homolovi Ruins-Canyon de Chelly-I13-Farmington-Bisti Badlands-De Na Zin Wilderness-Chaco Culture-Angel Peak-Shiprock Peak-Valley of Gods-closed ferry-Burr Trail-Boulder-Escalante-Kodachrome Parc-Cottonwood Canyon-Skutumpah Road-Lick Wash (Slot Canyon)-Johnson Canyon-Kanab-Zion-Valley of Fire-Lake Mead-Vegas in October 2003
2007: "fragile Canyon" - somewhere hidden in the desert; Vegas, Barstow, Mojave Airport, Santa Barbara, "Area 49", Death Valley, Rhyolite, Valley of Fire SP, Springdale/Zion, Kanab, Toadstool Valley, Coyote Buttes, White Rocks, Old Paria (new filmset!), Glen Canyon Dam, Page, NOT Antelope Canyon Burglery, Bryce Canyon, Escalante, Devils Garden, Calf Creek, Dry Fork + Peak-a-boo Slotcanyons, Capitol Reef + Hickman Bridge, Luna Mesa, Hanksville, Goblin Valley, Price, Ouray, Fantasy Canyon, Bonanza, "Area 85", Dragon, Baxter Pass, Fisher Towers, Moab, Arches, Canyonlands, Jug Rug Arch, Corona Arch, Natural Bridges, Valley of Gods, Monument Valley, Grand Canyon, Valle: Planes of Fame, Williams, Flagstaff, Sunset Crater, Roden Crater, Sedona, Devils Kitchen, 7 sacred pools, Jerome, Seligman, Kingman, Oatman, Chloride, Hoover Dam, Boulder, Vegas [corresponding flickr-photos]
Bevor you go:

add these items as they are difficult to get there:
buy this in USA (cheaper):

in Vegas you can buy cheap T-Shirts and put them in the Trash after the trip

in Vegas' Malls you get lots of fine clothes and some electronics at much lower prices

look for nice watches, cheap razor blades, car accessories, high end knifes

collect cool T-Shirts from special places along your trip

Water, Water, Water!!! Not all campsites have water

Camping Gaz/ Coleman Gas: Most Sporting Shops have them. You can't put them on the plane

35mm films - most US security devices are harmful to them!!! develop them over there!